Interview with Chair of HMBANA's 2020 International Donor Milk Conference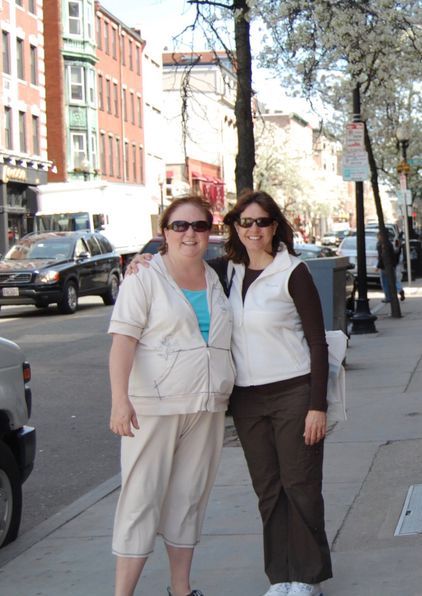 Leslie Mondeaux and Joanne Ransom on the Freedom Trail, April 2010
HMBANA's 2020 International Donor Milk Conference is in just a few months. HMBANA Associate Director Sybil Sanchez met with Conference Chair Lesley Mondeaux of Northwest Mothers Milk Bank to learn more about what the conference is and why it's important to the milk banking community.
For how long have you been HMBANA's fearless conference committee chair?
In 2017, I co-chaired the symposium with Amy Vickers, of Mothers' Milk Bank of North Texas, and then she stepped down after that. So, officially, I've been the chair since 2018.
How did you get involved?
Amy Vickers was the chair for quite a while before me. I've always liked the planning aspect of events.
In fact, the way I got so involved in milk banking was that on a whim, Joanne Ransom and I decided to attend the HMBANA conference in Boston in 2010, while we were on the board of Northwest Mothers Milk Bank, which was a developing milk bank at the time.
It was such an amazing conference. I really enjoyed learning about the power of human milk. Then on the last day, after the conference had ended, Joanne and I walked the whole Boston Freedom Trail. We planned our milk bank and what it would look like, taking inspiration from the conference while we walked and talked.
What is your personal motivation for the work you do in chairing HMBANA's conferences?
HMBANA's strength is in its people. We are all are so passionate about human milk banking! Yet, there are so few opportunities to come together, so when we do it's dynamic and powerful.
Tell us about the conferences. For example, what distinguishes the international donor milk conference from the membership symposium?
The international donor milk conference is designed to bring a variety of people whose every day work has some kind of component of human milk, whether it's feeding, NICU care, medicine, or dealing with policy.
It's an opportunity for us to come together and share research, while expanding our practice and knowledge base in our everyday work. The fact that people are milk banking around the world is also really fascinating. It shows us all that there's not just one way to support human milk or to support and protect breastfeeding. And, then on top of those things, it's also an opportunity for milk bank directors to come together and learn from each other.
The membership symposium, on the other hand, was born out of the fact that our membership is spread throughout the United States and Canada. It's an opportunity for people who are doing the same job in different milk banks to come together and share ideas. We've only had two symposia so far, but all of our members have said that they are very valuable experiences for information sharing and community building.
What should we expect from the 2020 international donor milk conference, what are some highlights that you're looking forward to?
This year's agenda is packed. I'm really looking forward to learning more about the work that's being done nationally – for instance through NIH, CDC and the AAP with regard to human milk and the best nutrition for premature babies.
There's always a really great opportunity for learning about breastfeeding practice and support, which is of course the cornerstone of human milk banking. This is always helpful for our continuing education as so many of us are also lactation consultants.
How will HMBANA milk banks and others benefit from the conference?
We focus on building community and providing new insights on the health and survival of premature babies. It's a way to increase our passion for the use and importance of human milk.
Can you share a story, from your milk bank or otherwise, that demonstrates how these conferences benefit our community?
At the last international conference in 2018, Kimberly Mansen from PATH gave a talk about PATH's work incorporating human milk banking into breastfeeding support. She talked about how milk banks not only create PDHM but also protect, promote, and support breastfeeding.
As a result, my milk bank is in the process of applying that model into our operations as we move into a larger space that will allow us to do more. Kimberly's powerful message opened up this new opportunity and vision for our milk bank.
What else do you want to tell us about yourself, the committee, the conference or otherwise?
The conference committee is an amazing group of people who come together to put on one of the best conferences for health care providers, milk bank communities, students, and others in the milk banking field.
I want to give them a big shout out, because it's by no means a solo endeavor. It takes a village, with multiple milk banks involved.
Kudos to our dedicated conference committee members!
Amy Vickers, Mothers' Milk Bank of North Texas
Christine E. Smith, OhioHealth Mothers' Milk Bank
Jannette Festival, NorthernStar Mothers Milk Bank
Joanne Ransom, Northwest Mothers Milk Bank
Kristan Easter-Brown, Heart of America Mothers' Milk Bank
Laraine Lockhart Borman, Mothers' Milk Bank
Pauline Sakamoto, Mothers' Milk Bank
Summer Kelly and Susan Urbanski, Mothers' Milk Bank of the Western Great Lakes
We're especially excited to have the leadership of Kandis Natoli, Mothers' Milk Bank of Florida, with our call for posters, which we hope folks will take advantage of and respond to by the end of January.
Lastly, I want to highlight the fabulous location for this year's conference. We're especially excited to visit Austin and the Mothers' Milk Bank at Austin in their new location. Seeing milk banking in action is always a powerful experience. We're especially thankful to Kim Updegrove and her staff for their support as our host milk bank.