Dr. Tarah Colaizy Joins HMBANA As New Research Director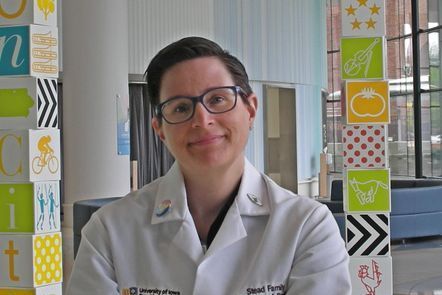 The Human Milk Banking Association of North America (HMBANA) is pleased to share that Dr. Tarah Colaizy, Professor, Pediatrics/Neonatology, Carver College of Medicine, University of Iowa has accepted the role of research director.
With an MD degree, as well as an MPH in epidemiology, Tarah has been a practicing neonatologist and active clinical researcher in the area of donor human milk and nutrition in preterm infants for over 15 years. She has also served as the medical director of the Mother's Milk Bank of Iowa since 2006, so she is quite familiar with nonprofit milk banking.
"I want to help expand research on donor milk, donor milk processing, and operations as it relates to clinical outcomes and benefits to recipients. It's an exciting opportunity to bring richer and more varied research into the area of nonprofit human milk banking in North America," said Tarah.
Tarah will represent HMBANA's views on human milk pasteurization and donor milk as a feeding method for fragile infants.  She will also chair the research committee which fields research requests related to donor milk and milk banking.
"Tarah is a passionate advocate for donor human milk use in the preterm population, as well as for nonprofit human milk banking. We are grateful and excited to work with her," said HMBANA Executive Director Lindsay Groff.
To meet Tarah and hear her speak, please join our upcoming International Donor Milk Conference. Early bird registration ends soon!